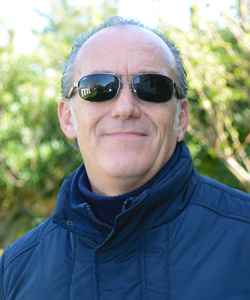 Welcome to my website,

my name is Sandro Santilli and I hope to not bore you too much if I tell you my professional life in a few lines. I was born in Rome in 1964 and I graduated in 1984 from Aeronautical Technical Institute "De Pinedo-Colonna".
I served in the Viterbo Non-commissioned School and then in the Cecchignola Motor School of Rome where I obtained the driving licenses for the A-B-C-D-E categories. Between 1989 and 1981 I worked as a seller for FIAT Oli Lubrificanti and then for the Canon Pansystem.
In possession of the Professional Qualification Certificate and the CQC (Driver Qualification Card) I have been working in the Passenger and Carriage Transport sector since September 1991, when I started to work for the CISES company that dealt with Accounting Documents Transport.
After I served as a Tourist Bus driver first for Carrani Tours in Rome and later for the Parenti Bus in Rome. After I worked for over ten years as a professional driver at the S.C.S. Car rental, in April 2013 I have been authorized to hire drivers in the name of my company Sandro Santilli Autonoleggio. During these years I have always put my professionalism at the customer's service because I firmly believe that commitment and quality will be always paying in the long run.
Some people claim that the rental with a driver (NCC) is a simple service, as it is only necessary to take the customer from the place of departure to that of arrival, but it is not so.
For me it means doing it with the most courtesy, reliability, punctuality and professionalism and for this reason I offer my customers higher class cars such as the Mercedes E-Class or the Mercedes V-Class, equipped with adequate comfort and above all a high level of safety. My goal is to make your trips easy, punctual and safe, taking care of you from the beginning to the end of the service required, using all my experience and knowledge of Rome and its province, but not only.
In confirmation of my service's quality, I am pleased to draw your attention to the most recent messages of thanks and satisfaction of my clients:
Meillä oli lento Roomaan, ja tarvitsimme kuljetuksen Anzion kaupunkiin, josta olimme vuokranneet talon 5 päiväksi. Sandro haki meidät kentältä, ja kaikki sujui todella hienosti. Sandro otti meidät vastaan lentokentällä, ja auto oli vimosen päälle 🙂 Matka Anzioon sujui hyvin ja juttua riitti. Erittäin vahva suositus, jos haluat laatua ja varman kyydin. Kiitos We rented house in Anzio, and needed transport airport-Anzio. Sandro waited us in airport, and everything went nice and smooth. Sandro was true gentleman with very nice and clean car. If you need professional driver in Roma area. This man is all you need.
Dmitry Bodrov
26 Dicembre 2022
Professional and simply Fantastic person. Especially if it's your first trip to Rome he not only take you to your living point, but also leave fantastic first impression about Italy and it people!
Mark Scerri
14 Dicembre 2022
Professionita, educato e molto pulito. Grazie
Rastislav Hudak
28 Agosto 2022
Highly professional approach, we were everywhere on time. Very pleasant and accommodating. Along the way, we also had a historical interpretation of the monuments. We will definitely call him when we return to Rome. I recommend it to everyone. Rasto & Helen from Slovakia
Krzysztof Sielewicz
20 Agosto 2022
Amazing driver, very punctual, great communication, thank you!
Jim Anastos
19 Agosto 2022
Excellent servIce!! One of the best ever. Sandro contacted us a couple of times before our arrival in Rome. He confirmed all the details. He was a fantastic driver, so professional and friendly. highly recommend!!
Jamie Gabbay
27 Luglio 2022
He was a wonderful driver. So nice, clean car, flexible with time and really accommodating. Definitely recommend and will definitely call on him again! 🙂
Good service, on time, friendly and a safe driver. Highly recommended...again and again
Adam Selby
23 Luglio 2022
Sandro was very friendly, on time and communication was excellent about meeting him and picking us up! Highly recommend